Subskrypcje pozwalają aktywować wtyczki po instalacji i umożliwiają automatyczne aktualizacje bezpośrednio z pulpitu WordPress. Nasz nowy system licencjonowania nie wymaga już aktywacji unikalnych kluczy API. Zamiast tego poprosimy Cię o zarejestrowanie domeny Twojego sklepu. Przeczytaj o procesie aktywacji poniżej.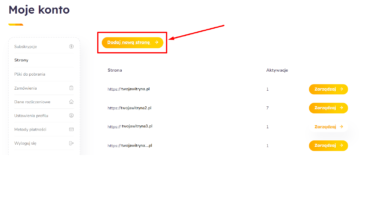 Zaloguj się i przejdź do sekcji Moje konto.
Przejdź do zakładki Witryny i dodaj adres swojego sklepu internetowego. Gdy to zrobisz, możesz zarządzać swoją wtyczką.
Przejdź do przycisku zarządzania i zaznacz pole wyboru wtyczki, którą chcesz zainstalować w swoim sklepie. To wszystko. Wtyczka została aktywowana i możesz zacząć z niej korzystać.
Pobierz wtyczkę, którą chcesz zainstalować:
Zainstaluj wtyczkę za pomocą panelu WordPress. Następnie włącz wtyczkę.
Wtyczka jest gotowa do konfiguracji i użycia
Jeśli dla wtyczki dostępna jest aktualizacja, a wtyczka nie została aktywowana, system automatycznie aktywuje ją na stronie, do której przypisana jest subskrypcja.