Formularz kontaktowy jest jednym z podstawowych elementów każdego sklepu internetowego. Dzięki formularzowi kontaktowemu Twoi klienci mogą się w bardzo prosty sposób z Tobą kontaktować.
Jeżeli jeszcze nie posiadasz formularza kontaktowego w swoim sklepie, możesz go utworzyć wykorzystując do tego wtyczkę Gravity Forms.
Przejdź do Formularzy Gravity Forms i dodaj nowy formularz.

Podczas tworzenia formularza do wyboru masz wiele różnych pól, które pozwolą Ci stworzyć formularz taki jaki dokładnie potrzebujesz.
Pola formularza możesz przeciągać z listy po lewej stronie i dodawać je do swojego formularza.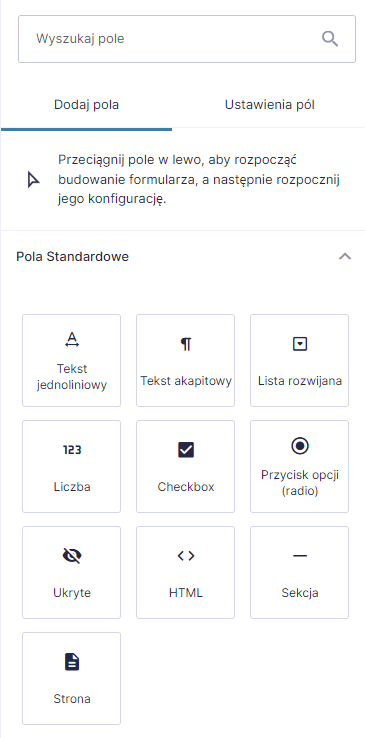 W tym poradniku skupimy się na podstawowym formularzu, który będzie zawierać:
Imię i nazwisko – Tekst jednoliniowy
Adres E-mai – Email
Temat wiadomości – Tekst jednoliniowy
Treść wiadomości – Tekst akapitowy
W każdym polu formularza możesz ustalić jego wielkość oraz czy ma to być wymagany element podczas jego wypełniania.
Jeżeli zostały dodane przez Ciebie już wszystkie elementy, możesz opublikować formularz na swojej stronie.
Możesz go dodać na 3 sposoby:
Shortcode

Aby otrzymać pomoc, musisz być naszym klientem. Zaloguj się poniżej.

Id to identyfikator formularza.
Edytor WordPressadodając blok o nazwie "Gravity Forms".
Elementorjeżeli tworzysz strony z użyciem tego narzędzia, możesz dodać dodatkowy blok o nazwie "Formularz".